Reflections on the profession, design, art, books and life in general
Architects and sketching
Architects are associated with sketching long before the profession has evolved. One automatically expects an architect to sketch and explain his point. Architectural career choices are still majorly influenced by the candidate's proficiency in sketching.
Is the skill heavily overrated? Or does it deserve the hype?
The problem starts when one confuses sketching with 'art'. Definitely, creativity (and thus similar tastes) has its own part in shaping an architect's career. But what one forgets in the debate is the potential of a 'skill' as basic as sketching which can help the professional in a long way throughout his career. It is a skill which can be learnt and mastered. A very powerful 'tool'- sometimes the most powerful - which if used with care, can simplify many a process. It's also a skill which is very enjoyable.
"STRIPPING INFORMATION INTO THE VERY BASICS HAS HUGE ADVANTAGES."
allow capturing the vagueness associated with an initial concept. It can travel with the speed of thoughts. You can read about the effectiveness of conceptualizing in the post 'can it be simpler'
ot only impresses(!) the onlooker (client, most of the time) but helps to communicate an idea clearer. One could focus on to the point of concern and explain through sketches. Compare it with a caricature which captures the most visible features of the subject and overplay it to bring home the point.
actors always come up with lot of stupid unexpected queries and doubts. An effective sketch can explain most of the situations pretty well. It saves valuable time too. Stripping information into the very basics has huge advantages.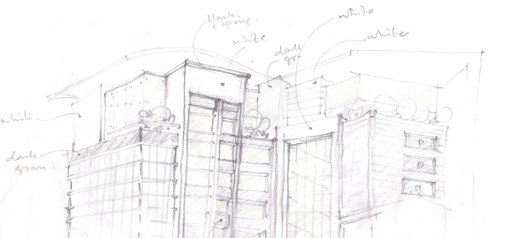 medium which requires minimum infrastructure. Many a famous idea has taken its birth first on paper napkins!
As the name suggests, sketches have to be sketchy. When one goes on to replace a computerized rendering with a hand rendering, it should have all the details for which it is made. (One cant underestimate the potential of such visualizations) But our point of concern is mere sketching and not to be confused with the rendering. It will remain a valuable skill which is desired to be acquired by architects for obvious reasons.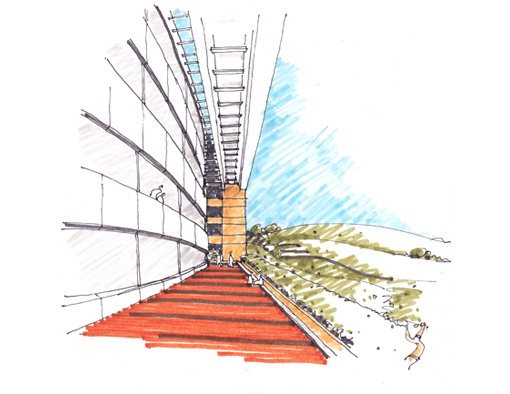 d, all sketches are of the author]
Further reading for the interested:
http://www.lifeofanarchitect.com/drawing-like-an-architect/
http://architecturesketch.tumblr.com/
Search this blog
BINU BALAKRISHNAN
Principal architect at Leading Design Architecture Studio, Cochin (http://www.leadingdesign.in/). Holds a Masters in Architecture from IIT Roorkee. Passionately involved in architecture, art, photography, books and technology that touches life. . . . . . .
TRENDING ON being AN ARCHITECT
recent posts