Reflections on the profession, design, art, books and life in general
Bath House: kahn's legacy restored.
The form of the building is unassuming.
You will probably notice just the solid concrete block walls and the large pitched roof over it from outside. It gives an impression of being too monotonous and probably more cerebral. Yet the building leaves a lasting impression upon the visitors and architectural critics because of its sheer simplicity, articulation of spaces and clarity in language.
Personally, this is one of my favorite kahn building.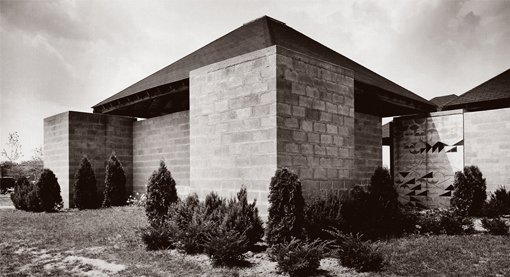 e and changing area for patrons of an outdoor swimming pool, Trenton Bath House was a part of the larger scheme -which never got constructed- for the Jewish Community Center of the Delaware Valley.
"THOUGH UNCEREMONIOUSLY THROWN OUT OF THE PROJECT, KAHN OFTEN SPOKE OF THIS PROJECT AS A TURNING POINT IN HIS DESIGN PHILOSOPHY."
The Bath House design is a simple cruciform shape. Four square concrete block rooms or areas, surrounding an open atrium. Each of the rooms is topped by a simple, wooden rectangular pyramid roof. Apart from the pure design elegance, Kahn also clarified his thinking about the utilitarian purposes of the various spaces, and it was in this building that he first articulated his notion of spaces serving and spaces served.
We all saw the sad plight of the building in the documentary My Architect. The good news is that it got a 'very expensive' restoration and a small addition as a snack bar along with it (by architects Farewell Mills Gatsch).
The weather was not forgiving towards the exposed concrete blocks. Interestingly, Kahn had a romantic idea of rain water flowing onto the wall surface. Masons had to be taught how to apply the mortar in the slapdash way Kahn liked. Painstakingly, they have matched the concrete block wall, did waterproofing with a thermoplastic resin to the exposed concrete blocks, introduced the original circle in the centre (as flooring, though) and added the new snack bar which complimented the original.
moniously thrown out of the project, Kahn often spoke of this project as a turning point in his design philosophy, "From this came a generative force which is recognizable in every building which I have done since."
Search this blog
BINU BALAKRISHNAN
Principal architect at Leading Design Architecture Studio, Cochin (http://www.leadingdesign.in/). Holds a Masters in Architecture from IIT Roorkee. Passionately involved in architecture, art, photography, books and technology that touches life. . . . . . .
TRENDING ON being AN ARCHITECT
recent posts