Reflections on the profession, design, art, books and life in general
'Komet': Kochi Metro- Chance for world class rapid rail stations
Prime minister Manmohan Singh laid the foundation stone for the Kochi Metro rail project (aptly abbreviated as 'KOMET') a few days back.
Dr. Singh said the Central support for the 25-km Kochi project, estimated at Rs. 5,180 crore, would be around Rs. 1,000 crore. Kochi would be the eighth city in India to have a Metro network.
As an architect, I am more interested in the built spaces for the project than its ubiquitous political controversies. Here is a chance for Kochi to build world class rapid rail stations, as is the case with many recent metros of similar class and scale.
"RAPID RAIL STATIONS ARE PUBLIC SPACES. FUNCTION, UTILITY AND SAFETY SHOULD TAKE A FRONT SEAT WHILE TAKING DESIGN DECISIONS"
I have been fortunate to be a part of the team [Mott MacDonald and Mackellar Architecture (U.K)] who designed the much famed underground stations of Delhi Metro including Connaught Place, New Delhi, Old Delhi, Central Secrateriat, Patel Chowk etc. and to further explore the design considerations for Rapid Rail stations as part of my Masters' Thesis from IIT Roorkee. Since the building typology is a bit unfamiliar to many, I thought to share a few experiences of mine. (Believe me, I cannot do justice with a post since this is as complex a topic for even a Post Graduate thesis. See! J )
Rapid rail stations are public spaces. Function, utility and safety should take a front seat while taking design decisions.
To the layman a public transportation system is to a large extent an invisible skeleton of the city and metropolitan region, the comprehension of that structure generates an awareness and appreciation of the city itself, and an appreciation of travel through it.
Because of the wide divergence in age and character of existing rapid transit stations, it is obviously impossible to set a standard that all must follow. There must be deviations in order to achieve compatibility with existing transit structures and equipment. Individual transit properties are governed by their own authorizing statutes and regulations. Also considered should be the local context and the psychology of the users.
The general considerations should be;
1) Establish the system's image through simple, logical and strong designs.
2) Provide movement patterns and directions for patrons that are easy to understand.
3) Meet safety and functional requirements without compromise.
4) Accommodate maintenance and replacement issues.
5) Provide facilities that are accessible to persons with disabilities.
6) Be cost-effective.
7) Provide public spaces that maintain or enhance the quality of nearby neighbourhoods.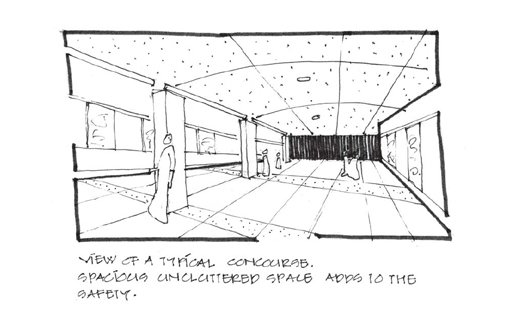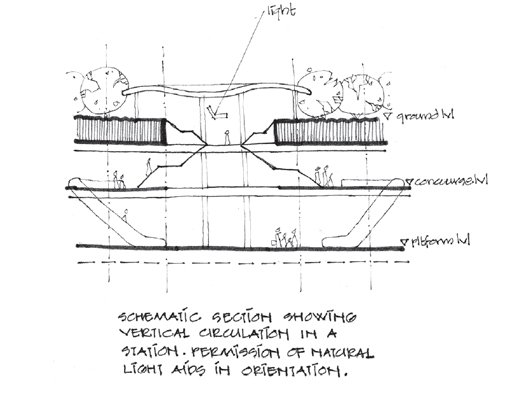 I have tried to explain a few basic concepts through my incomprehensible sketches and representative images.
A lot of effort and money goes behind our public buildings like a Metro Station. It will be a pity, if it gets poorly planned and designed. Moreover, the construction quality itself leaves a lot to be desired. Hope that DMRC (and Sreedharan) comes up with a commendable job..!
Search this blog
BINU BALAKRISHNAN
Principal architect at Leading Design Architecture Studio, Cochin (http://www.leadingdesign.in/). Holds a Masters in Architecture from IIT Roorkee. Passionately involved in architecture, art, photography, books and technology that touches life. . . . . . .
TRENDING ON being AN ARCHITECT
recent posts