Reflections on the profession, design, art, books and life in general
10 Things that a creative professional should never tell a client
I was tempted to have the title as '10 Things that an architect should never tell a client'.! Not always that you happen to read an article on a different profession and wonder how aptly it describes yours.
Couldn't resist sharing the article titled '10 Things that a photographer should never tell a client' on the December 2012 edition of Better Photography magazine, because each line was relevant to architecture profession as well. Just exchange the specifics and see how it starts making sense.!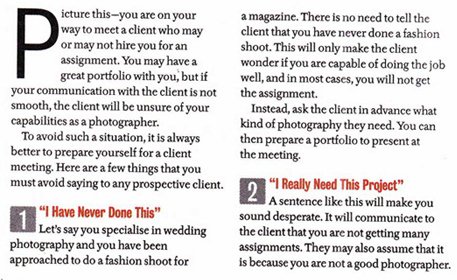 Courtesy: Chandni Gajria's article on Better Photography magazine, December 2012
Search this blog
BINU BALAKRISHNAN
Principal architect at Leading Design Architecture Studio, Cochin (http://www.leadingdesign.in/). Holds a Masters in Architecture from IIT Roorkee. Passionately involved in architecture, art, photography, books and technology that touches life. . . . . . .
TRENDING ON being AN ARCHITECT
recent posts