Reflections on the profession, design, art, books and life in general
World has just celebrated 125th birthday of one of the most influential architect of the 20thcentury, Le Corbusier. This reminded me of my visit to the much famous Millowner's Association Building in Ahmedabad a few years back.
There are few cities in the world that can claim more than three buildings by Le Corbusier, and Ahmedabad is one of them(after Paris, Chandigarh and La Chaux-de-Fonds), with the Museum, the Millowners Association Building, and the Sarabhai and Shodhan houses to its credit. Such major commissions, all initiated during Le Corbusier's first visit to the city, attest to Ahmedabad's intellectual climate and economic prosperity unrivalled in India for a city of its size.
Labels: No labels
Are we getting more and more addicted towards technology? Are our daily chores getting more and more automated?
"Three scenarios likely to be possible in the future:
"No," says the refrigerator. "Not eggs again. Not until your weight comes down, and your cholesterol levels are lower. Scale tells me you still have to lose about five pounds, and the clinic keeps pinging me about your cholesterol. This is for your own good, you know."

"I just checked your appointments diary in your smart phone," says the automobile as you get into the car after a day's work. "You have free time, so I've programmed that scenic route with those curves you like so much instead of the highway - I know you'll enjoy driving it. Oh, and I've picked your favorite music to go with it."

"Hey," says your house one morning as you prepare to leave. "What's the rush? I took out the garbage. Won't you even say thank you? And can we talk about that nice new controller I've been showing you picture of? It would make me much more efficient, and you know, the Jones's house already has one."
Labels: architecture artificial intelligence automation Donald. A. Norman home automation technology
Prime minister Manmohan Singh laid the foundation stone for the Kochi Metro rail project (aptly abbreviated as 'KOMET') a few days back.
Dr. Singh said the Central support for the 25-km Kochi project, estimated at Rs. 5,180 crore, would be around Rs. 1,000 crore. Kochi would be the eighth city in India to have a Metro network.
As an architect, I am more interested in the built spaces for the project than its ubiquitous political controversies. Here is a chance for Kochi to build world class rapid rail stations, as is the case with many recent metros of similar class and scale.
Labels: cochin kochi metro komet metro station rapid rail station design guide lines
I presuppose that what I am going to say is known to all of my fellow professionals (read 'architects'). But since I constantly meet with the necessity of explaining the same to students as well as many of my team members, I thought it will be useful to write about it.
Arriving at details and detail patterns for a particular project is very rewarding as the whole design itself. One should always understand the reason behind each detail - whether it is appropriate, aesthetically pleasing, easy to build or needed at all. Most of the time, designers seem to be caught in a dilemma of using 'ornamental' patterns. Many find it pleasing to eye and many discard it as superfluous and surface deep.
The real problem is
when one doesn't understand the difference between 'ornamentation' and 'intensification' or confuse between the two and take decisions.
Labels: architectural detailing architecture design details intensification ornamentation
The form of the building is unassuming.
You will probably notice just the solid concrete block walls and the large pitched roof over it from outside. It gives an impression of being too monotonous and probably more cerebral. Yet the building leaves a lasting impression upon the visitors and architectural critics because of its sheer simplicity, articulation of spaces and clarity in language.
Personally, this is one of my favorite kahn building.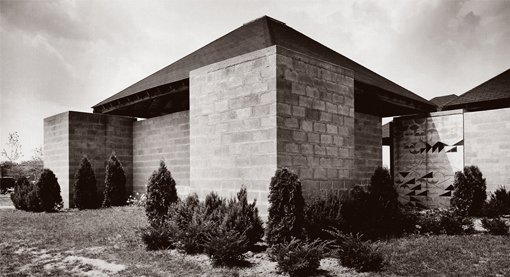 e and changing area for patrons of an outdoor swimming pool, Trenton Bath House was a part of the larger scheme -which never got constructed- for the Jewish Community Center of the Delaware Valley.
Labels: No labels
Search this blog
BINU BALAKRISHNAN
Principal architect at Leading Design Architecture Studio, Cochin (http://www.leadingdesign.in/). Holds a Masters in Architecture from IIT Roorkee. Passionately involved in architecture, art, photography, books and technology that touches life. . . . . . .
TRENDING ON being AN ARCHITECT
recent posts