Reflections on the profession, design, art, books and life in general
Curiously enough, architects have expressed themselves and their thoughts in many profound ways. Many are 'thought bites' which carry more than one layer.
These are (my) top (favourite) architectural quotes (though a few are generic and can be applied to all forms of design). Enjoy..!
The sun never knew how great it was until it struck the side of a building.
Louis Kahn
Labels: No labels
Contemporary Srilankan architecture has been successful in continuing the legacy left by master Geoffrey Bawa. There are a handful of projects which are truly international yet rooted firmly on the country's rich tradition. The vocabularies, in most cases, are unmistakably modern, but the spaces and details reflect local sensitivities.
I thought to share one recent project representing the impressive body of works from Srilanka. The project is in itself a case study of housing in warm humid tropical climate.
The project is a Holiday Bungalow for Mr. Sanjeewa Maddumage at Mathale Sri Lanka, built in 2009 by Architect Thisara Thanapathy (he won the prestigious Geoffrey Bawa award 2010/2011 for Excellence in Architecture).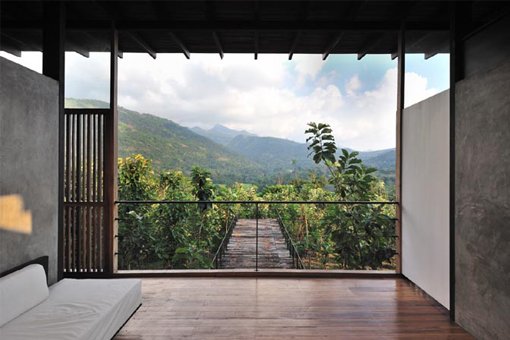 Framed view
Labels: architecture architecture profession Contemporary Srilankan architecture design Geoffrey Bawa Holiday Bungalow for Mr. Sanjeewa Maddumage at Mathale Sri Lanka Thisara Thanapathy
Surely, I lost my way!
I guess it was in 2005. I stood on the front lawn facing the Sangath searching for the ceremonious entry into the much famous studio of B V Doshi. The entrance itself was deceptive, to say the least. I was very excited to visit the place as a part of an architectural 'pilgrimage' to Ahmadabad which also included great buildings like Sangrahalaya, IIMA, Mill owner's Association building etc.
my surprise, none other than B V Doshi came out of the building. He spotted me. I was a bit hesitant to meet the master and was literally ashamed to ask for the way. To my surprise, he asked me whether I am looking for my way to get in. With a smile on his lips, he pointed towards a circuitous pathway that disappeared behind the greenery. Upon my request to see his studio, he told me to take a look around, taking my time.
Labels: No labels
There is an old Chinese saying: ??????, "yi fen qian, yi fen huo" (pronounced ee fen chee-ahn, ee fen hoo-oh), which gets translated into the post title 'You get what you pay for.'
customed to understand the adage when they buy a luxury car, an apartment or an iPhone. Surprisingly, they pretend to forget it when they are commissioning an Architect. The curious fact is, an architect's role has a lot of subjectivity into it that one will not be able to gauge it from the receiving end. (You could easily compare the features between a Merc and an Audi before signing the cheque).
Labels: architecture architecture in India architecture profession YGWYPF you get what you pay for Bargain Architectural Fee Professional Fee Salary Product Quality
I always wondered how to manage time efficiently. The problem becomes manifold when the case of concern is a creative personnel.
me-management principles urging you to pack-in the maximum deliverable into a fixed time frame. They try to teach you to do 'multitasking'. You can thus learn the circus of having a coffee while riding a bus and read the newspaper as well. According to your proficiency, you can add more activities to it. I found it utterly foolish to practice it in a creative field. The only thing I can do along with having coffee and doodling with pencil designing is to listen to songs. But curiously, I cannot continue it for long unless the songs are of a particular genre! My point is, its not how many things you do that matter, but what you did.
Labels: No labels
Search this blog
BINU BALAKRISHNAN
Principal architect at Leading Design Architecture Studio, Cochin (http://www.leadingdesign.in/). Holds a Masters in Architecture from IIT Roorkee. Passionately involved in architecture, art, photography, books and technology that touches life. . . . . . .
TRENDING ON being AN ARCHITECT
recent posts